---
MISA Tanzania Governing Council elects Salome Kitomari as Interim Board Chairperson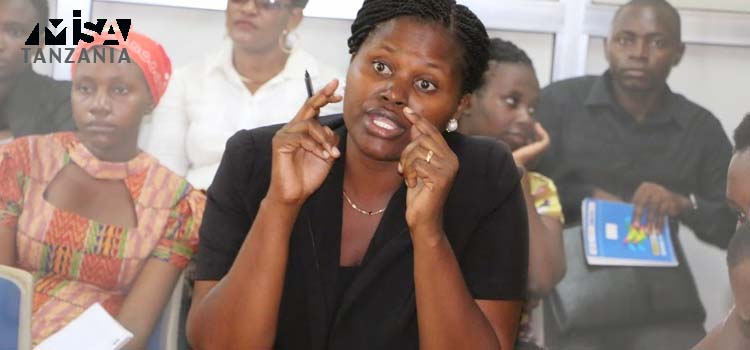 The National Governing Council (NGC) of MISA Tanzania has appointed Ms. Salome Kitomari as its Interim Chairperson. The decision was reached at a Board meeting held at the MISA Tanzania office on March 18, 2017, following the vacancy left by Simon Berege, who retired after Presidential appointment to serve as the District Executive Director in 2016.
Ms. Kitomari is the first female to serve as the MISA Tanzania Chairperson since the founding of the organisation in 1997. She has been a member of MISA for over a decade. Kitomari is a practicing senior journalist currently working for IPP Media. She has, among others, served as the Bureau Chief for the Guardian Ltd. in Kilimanjaro for five years. Kitomari has won several journalism awards and has covered constitutional and national assembly elections, including the 2016 USA Primary Elections.
Ms. Kitomari has served as a board member of the Journalists Environmental Association of Tanzania (JET) for two terms since 2009 and has represented JET at various platforms on climate change.
Fellow MISA Tanzania members describe her as smart, confident and a go-getter. She holds a Diploma in Journalism and is currently pursuing her Bachelors Degree in the same field at Tumaini University in Dar es Salaam.
Signed
ABDULAH MMANGA
Sitting-in-Chairperson
First NGC Meeting
April, 2017
/Ends
---
MISA Tanzania Chapter (MISA-TAN) is a non-governmental, non-partisan and non-profit making organisation registered in 1997 under the Societies Ordinance, 1954 in Tanzania. It is affiliated to the MISA regional headquarters in Windhoek, Namibia. MISA is a regional non-governmental organisation with members in 11 of the Southern Africa Development Community (SADC) countries. Officially launched in September 1992, MISA focuses primarily on the need to promote free, independent and pluralistic media, as envisaged in the 1991 Windhoek Declaration.    
---
Enquiries:
MISA TAN
P.O. Box 78172
Dar es Salaam
Tel: +255 22 2762167
Fax: +255 22 2762168
E-mail: misatanzania@gmail.com
http://www.misa.org/misa-chapters/tanzania
MISA Regional Secretariat
Tel: +264 61 232975
Fax: +264 61 248016
Email: info@misa.org
www.misa.org
www.whk25.org
About MISA
The Media Institute of Southern Africa (MISA) was founded in 1996. Its work focuses on promoting, and advocating for, the unhindered enjoyment of freedom of expression, access to information and a free, independent, diverse and pluralistic media.
Recommended posts
05 Jun 2019