---
MISA Zambia demands the immediate and unconditional release of M'membe, wife and Post Editor Joseph Mwenda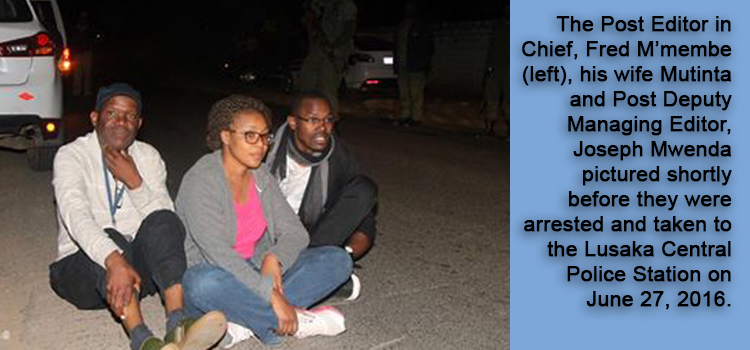 MISA Zambia is alarmed by the arrest of Post newspaper Editor-in-Chief, Fred M'membe, his wife Mutinta and Post Deputy Managing Editor, Joseph Mwenda for attempting to access their office premises following an ex-parté order staying execution of the Zambia Revenue Authority's warrant of distress issued on June 21st, 2016.
The arrest is proof that the action by the state is politically motivated and only aimed at crippling the newspaper.
It is saddening that the Police, who is charged with the duty of upholding law and order, decided to defy a legitimate order of the court.
State institutions, including the Zambia Police and Zambia Revenue Authority must not allow themselves to be used to achieve petty political aims, but must act in a fair and reasonable manner.
It is clear that the matter is worsening by the day because of the refusal by the ZRA and other institutions to treat the Post newspaper fairly, like they would any other tax payer or media house in Zambia.
We demand that the paper be treated in a non-discriminatory manner in the interest of media freedom and the media's continued duty to provide a platform for open debate and exchange of ideas, even those deemed to be critical and dissenting.
We strongly appeal to His Excellency, President Edgar Chagwa Lungu, to immediately intervene in the matter if he really believes in the freedom of the press and democracy.
President Lungu stated at his press briefing on May 13th, 2016 that he would ensure that the media operate independently and without any interference or censorship from the state.
It is our belief, therefore, that if President Lungu really meant this statement, the situation with the Post would have been amicably settled by now.
We call on the Inspector General of Police, Kakoma Kanganja and the Police command to immediately and unconditionally release Fred M'membe, his wife Mutinta and the Post Deputy Managing Editor, Joseph Mwenda.
The attempts to muzzle the press in Zambia using force will not succeed. These actions are reflecting badly on the current leadership with their character currently under question internationally.
Political leaders must know that this decision to close the Post Newspaper, in addition to political violence, restriction of fundamental freedoms of association, expression and movement undermines the holding of a free, fair and peaceful election, scheduled for August 2016.
Hellen Mwale,
Chairperson: MISA Zambia
Ends/
---
MISA is a regional non-governmental organisation with members in 11 of the Southern Africa Development Community (SADC) countries. Officially launched in September 1992, MISA focuses primarily on the need to promote free, independent and pluralistic media, as envisaged in the 1991 Windhoek Declaration.    
---
Enquiries:
MISA Zambia
Tel: +260 978/950 880958
Tel: +260 211 239155
Email: kamufisa@misazambia.org.zm
Email: director@misazambia.org.zm
Email: info@misazambia.org.zm
MISA Regional Secretariat
Tel: +264 61 232975
Fax: +264 61 248016
Email: info@misa.org
www.misa.org
www.whk25.org
About MISA
The Media Institute of Southern Africa (MISA) was founded in 1996. Its work focuses on promoting, and advocating for, the unhindered enjoyment of freedom of expression, access to information and a free, independent, diverse and pluralistic media.
Recommended posts
05 Jun 2019