---
NewsDay Journalists Assaulted On Duty, MISA Zimbabwe Condemns Abuse of Authority by Police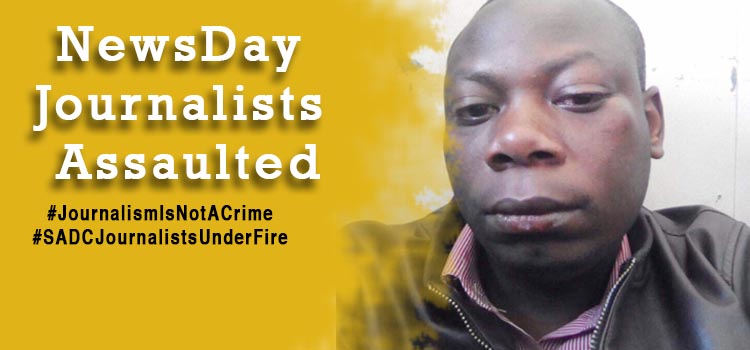 NewsDay journalists Obey Manayiti, Shepherd Tozvireva and their driver Raphael Phiri were arrested and assaulted by police officers on their way Harare Central police station, where they were detained on July 27, 2017. MISA Zimbabwe reports that the trio were photographing skirmishes between police and members of the public in central business district of Harare. MISA Zimbabwe is following the case and will provide updates as the matter unfolds.
MISA Zimbabwe condemns this abuse of authority by the police, which is seemingly aimed at blocking their unflattering law enforcement practices from filtering into the public domain. This is not the first case of police's use of unwarranted force against journalists. Similar cases were reported in 2016.
Journalism is not a crime, and the country's constitution recognises this by explicitly guaranteeing media freedom. MISA Zimbabwe therefore calls on Home Affairs Minister and his police chiefs to urgently act on this unacceptable policing so as to stem such unprofessional conduct feeding off a culture of impunity enjoyed by members of the force. Failure to do so will completely erode the police's public standing as a reputable force that upheld the rule of law in protecting of citizens.
Ends/
---
MISA is a regional non-governmental organisation with members in 11 of the Southern Africa Development Community (SADC) countries. Officially launched in September 1992, MISA focuses primarily on the need to promote free, independent and pluralistic media, as envisaged in the 1991 Windhoek Declaration.    
---
Enquiries:
MISA Zimbabwe
Tel:  +263 4 776 165/746838
Cell: +263 712 602 448/618 057
Email: misa@misazim.co.zw
Website: www.misazim.com
Twitter: @misazimbabwe
MISA Regional Secretariat
Email: info@misa.org
www.misa.org
www.whk25.org
About MISA
The Media Institute of Southern Africa (MISA) was founded in 1996. Its work focuses on promoting, and advocating for, the unhindered enjoyment of freedom of expression, access to information and a free, independent, diverse and pluralistic media.
Recommended posts
05 Jun 2019