---
Patriotic Front Cadres attack Zambia's Petauke Explorers Radio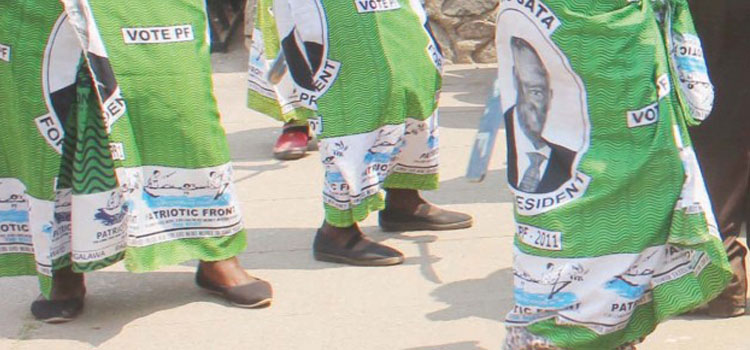 A group of suspected ruling Patriotic Front cadres on June 13, 2016, allegedly harassed and beat up Petauke Explorers Radio security officer Joseph Nyumayo and threatened to close the station.
The cadres (leader's name withheld) stormed the radio station around 16h30 on Monday and allegedly harassed and beat up Joseph Nyamuyo a Security officer for refusing them entry into the studio to fish out Petauke Central independent aspiring candidate Emmanuel Jay Banda who they thought was live on radio.

The cadres, who appeared to be inebriated, were advised to select four people to enter the premises as the newsroom could not accommodate all of them to issue a political statement if they were aggrieved by the programme.

The unruly PF cadres further threatened to break the grill gate and the entire fencing if they were not allowed in.
One of the identified cadres over powered the guard, whom he assaulted by beating him in the chest and later walked away with a security lock while showering the station management with insults.

The cadres threatened to close the radio station in 48 hours and fire all the members of staff if the station continued giving a platform to the independent candidate, despite the programmes being paid for. The cadres have since vowed to wage war against Petauke Explorers Radio Station.

Meanwhile PF Petauke District Chairman Standford Mwanza has condemned the behaviour of Petauke PF cadres who stormed Petauke Explorers to threaten journalists.

In a telephone interview Mwanza reminded PF cadres that he is the only person authorised to issue statements on behalf of the party.
Ends/
---
MISA is a regional non-governmental organisation with members in 11 of the Southern Africa Development Community (SADC) countries. Officially launched in September 1992, MISA focuses primarily on the need to promote free, independent and pluralistic media, as envisaged in the 1991 Windhoek Declaration.    
---
Enquiries:
MISA Zambia
Tel: +260 978/950 880958
Tel: +260 211 239155
Email: kamufisa@misazambia.org.zm
Email: director@misazambia.org.zm
Email: info@misazambia.org.zm
MISA Regional Secretariat
Tel: +264 61 232975
Fax: +264 61 248016
Email: info@misa.org
www.misa.org
www.whk25.org
About MISA
The Media Institute of Southern Africa (MISA) was founded in 1996. Its work focuses on promoting, and advocating for, the unhindered enjoyment of freedom of expression, access to information and a free, independent, diverse and pluralistic media.
Recommended posts
05 Jun 2019