---
Police Arrest Post Newspaper Editor in Chief and two others; newspaper remains closed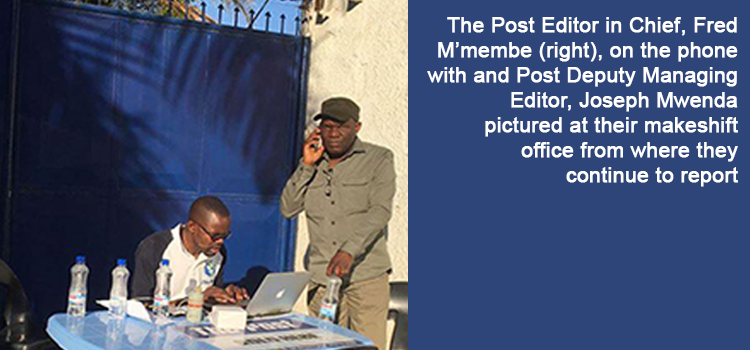 Police have arrested Post Editor-in-Chief Fred M'membe, his wife Mutinta and Deputy-Managing Editor Joseph Mwenda as they attempted to access the newspaper's offices following an ex-parte order which Police disregarded saying it was not signed by the Zambia Revenue Authority (ZRA).
The order, issued by the Revenue Appeals Tribunal stayed the execution of a warrant of distress issued by the revenue authority on Tuesday, 21st June, 2016, leading to the closure of the Post newspaper and seizure of some of its assets.
Police are alleged to have brutally beaten up M'membe, Mwenda and Mutinta before bundling them in a police van which drove off to Lusaka Central Police station where they have been locked up.
The Post stated in an update on its social media that 'armed Police' fought with Fred M'membe at the newspaper's entrance on Bwinjimfumu road, Lusaka, while the newspaper's lawyer, Nchima Nchito was also reportedly beaten up by Police when he tried to reason with the law enforcement officers .
Police also towed away vehicles belonging to Post employees who went back to their offices on Bwinjimfumu road following the court order which restrained the ZRA from seizing Post property.
Last week, the Zambia Revenue Authority, following the Supreme Court's ruling on a previous stay of execution of ZRA'S attempts to recover alleged outstanding tax payments, the ZRA raided the newspaper's offices and print press demanding immediate payment of an alleged K53 million (approximately USD 5.3 million) in a fresh demand which the paper disputed and requested for a reconciliation.
The newspaper offices and printing press remain closed while the journalists have been operating a makeshift newsroom along the road. The newspaper is being printed from an undisclosed printing press raising its cover price to K15 (approximately USD 1.50) while delays in daily publication/circulation have been experienced.
The United Nations Country Office, European Union delegation and the American Embassy have expressed worry at the action and called for the reopening of the Post last week.
BACKGROUND
The Post Newspaper is deemed to be critical of government and often carries dissenting views which have prompted government to issue threats against the newspaper. Last year, the Republican President stated that he was 'thinking twice' about the enactment of Access to Information law in Zambia because the paper [the Post] would use it to attack government. Other ministers have previously issued threats to close the newspaper.
M'membe was recently charged with 'publication of classified information' alongside his reporter Mukosha Funga, who is also facing charges of 'Defamation of the President' with the paper's Managing Editor, Joan Chirwa while other reporters have previously been questioned by Police in different cases.
Last year, a mysterious gunshot was fired into the Post newspaper's newsroom with a similar incident recorded at the state owned Zambia Daily Mail newspaper.
Zambia is scheduled to hold its elections on August 11, 2016 under a recently amended constitution which provides for a new 50+1 majoritarian system for Presidential election with supplementary elections for members of parliament, mayors/council chairpersons, and councillors.
The election will be held alongside a referendum on an enhancement of the bill of rights to include among other amendments the economic and social rights.
There have been concerns about the tense political landscape with increased intolerance and stifling of critical or dissenting views, political violence and restrictions of the fundamental freedoms of expression and association through the Public Order Act, which most stakeholders have described as being draconian.
Some community media houses have also been previously invaded and journalists physically attacked by political party cadres for featuring voices deemed to be critical of government while the Minister of Information has on several occasions threatened 'state regulation' of the media in the country.
Ends/
---
MISA is a regional non-governmental organisation with members in 11 of the Southern Africa Development Community (SADC) countries. Officially launched in September 1992, MISA focuses primarily on the need to promote free, independent and pluralistic media, as envisaged in the 1991 Windhoek Declaration.    
---
Enquiries:
MISA Zambia
Tel: +260 978/950 880958
Tel: +260 211 239155 / 29428586
Email: director@misazambia.org.zm
Email: kamufisa@misazambia.org.zm
MISA Regional Secretariat
Tel: +264 61 232975
Fax: +264 61 248016
Email: info@misa.org
www.misa.org
www.whk25.org
About MISA
The Media Institute of Southern Africa (MISA) was founded in 1996. Its work focuses on promoting, and advocating for, the unhindered enjoyment of freedom of expression, access to information and a free, independent, diverse and pluralistic media.
Recommended posts
05 Jun 2019