---
Free expression, media should trump political interests during Ugandan elections – MISA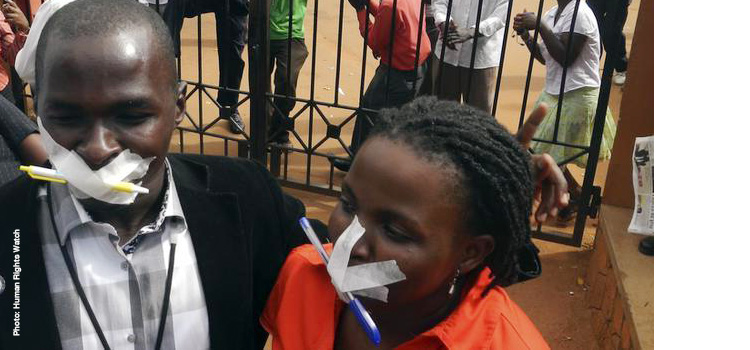 The Media Institute of Southern Africa (MISA) reiterates the crucial role played by the media during elections in keeping the public informed, providing voters with relevant information and ensuring transparent and fair elections.
In outlining this role, MISA joins regional and international organisations in strongly condemning the brutal and crippling actions being taken by the Ugandan authorities against the media in the run-up to this weekend's election.
Since last year, media houses and media practitioners have been threatened, assaulted, attacked, arrested, their equipment seized, offices raided or put under siege. There haven been numerous and relentless attacks on media across the country which are unwarranted and impact heavily on citizens right to access information regarding the elections thereby limiting their choices.
MISA is alarmed at the spate of violence which continues to escalate and includes human rights defenders, activists, dissenters and members of the opposition.
It is unacceptable that police officers in Uganda are guilty of being the worst violators of human rights at a time when they are required to maintain their neutrality. It is the duty of governments, police and other security agencies across the world to protect and defend people's rights while ensuring law and order.
At the same time MISA is extremely encouraged to note the resolve of Ugandan citizens for their quick uptake of alternative social media platforms to communicate when Facebook and Whatsapp were blocked by the Ugandan Communications Communication.
MISA calls on the Ugandan government:
To immediately cease the unwarranted attacks on the media.
To put an end to the arbitrary restrictions on media houses covering political issues
To unblock social media platforms so that citizens can enjoy their rights to information and to free expression.
MISA also calls on urges all stakeholders and political parties to commit to ensuring peaceful, free and fair elections and accept the outcome of elections.
We wish to remind all stakeholders in the electoral process that freedom of expression and political debate is fundamental to free, fair and genuinely democratic elections. In order to play their role, the media need both access to information and the freedom to freely and safely communicate their findings.
They act as a watchdog, ensuring greater transparency and accountability during the election process, providing citizens with information on their candidates, party policies and the elections process, enabling them to make informed decisions when they cast their votes or engage in public debate.
The media are essential to this process, as they are the main source of information for the population. The media also have a responsibility to produce accurate, professional and impartial reports.
Ends/
MISA is a regional non-governmental organisation with members in 11 of the Southern Africa Development Community (SADC) countries. Officially launched in September 1992, MISA focuses primarily on the need to promote free, independent and pluralistic media, as envisaged in the 1991 Windhoek Declaration. MISA also currently chairs the African Freedom of Expression Exchange (AFEX), a continental body of the most prominent African freedom of expression organisations in Africa.
Enquiries: MISA Regional Secretariat Email: info@misa.org
About MISA
The Media Institute of Southern Africa (MISA) was founded in 1996. Its work focuses on promoting, and advocating for, the unhindered enjoyment of freedom of expression, access to information and a free, independent, diverse and pluralistic media.
Related news
05 Jun 2019