---
AFEX condemns barbaric murder of female journalist in Somalia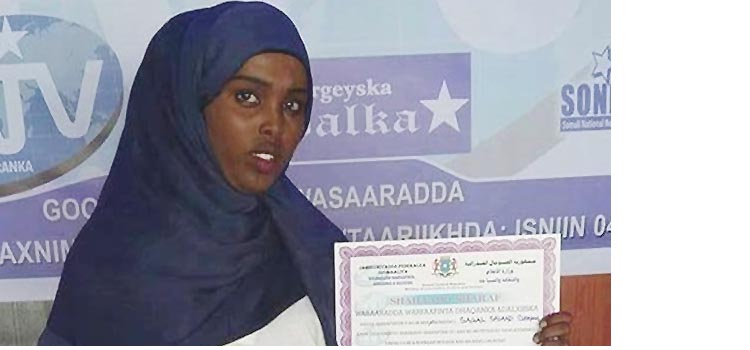 The African Freedom of Expression joins the National Union of Somali Journalists (NUSOJ) to strongly condemn the barbaric killing of Sagal Salad Osman, a female journalist working with state-controlled Somali National Television station (SNTV).
According to NUSOJ, a member of AFEX, Sagal Salad Osman (24) who worked for the government-controlled TV station was on June 5, 2016, shot dead at Banadir Junction in Hodan district. Sagal was a student at the Plasma University and a producer of a children's programme. At the time of the attack, Sagal left the university and was buying something at a restaurant located apposite of the university campus.
According to eyewitnesses two armed assailants were responsible for the shooting.
The union called on the Somali authorities to investigate expeditiously into the matter and bring the assailants of this heinous crime to book. "We offer our heartfelt condolences to Sagal Salad Osman's family, and we implore Somali authorities to bring those responsible for Sagal's murder to justice, and break the cycle of violence and impunity that has plagued the country for so long," said Omar Faruk Osman, NUSOJ Secretary General. "We demand that security forces and the judiciary to see that her death does not go unpunished".
AFEX backs NUSOJ's call and sends out its heartfelt condolences to the family and friends of the reporter, especially the six siblings left behind. They have now lost both breadwinners since the recent death of their mother.
This is the second female journalist to be killed in Somalia within the last six months. In December 2015, Hindiyo Haji Mohamed (27) died after a bomb planted under her car went off.
"We are appalled by the mindless killing of Sagal Salad Osman. The perpetrators have not only deprived a family of a breadwinner but have also deprived society of a promising journalist whose activities were anchored towards youth empowerment", said AFEX Steering Committee Chairperson, Zoé Titus.
We implore the Somali security forces and the police to investigate this matter expeditiously and bring the culprits to justice. AFEX will continue to work towards ensuring the safety of journalists in Somalia as well as promoting and defending freedom of expression in Africa.
Read more at: http://www.africafex.org/attacks/afex-condemns-the-barbaric-murder-of-female-journalist-in-somalia
---
AFEX is an independent, voluntary network established by the African members of IFEX. Its membership is institutional and limited to African members of IFEX; thus for an organisation to be a member of AFEX, they must be a member of IFEX. The nine (9) organisations that currently make up AFEX are connected by a shared commitment and responsibility to defend and promote freedom of expression as a fundamental human right.
---
Enquiries:
AFEX Secretariat
P.O. Box LG730
Legon, Ghana.
Tel: 233 302 24 24 70
Email: info@africafex.org
Website: www.africafex.org
About MISA
The Media Institute of Southern Africa (MISA) was founded in 1996. Its work focuses on promoting, and advocating for, the unhindered enjoyment of freedom of expression, access to information and a free, independent, diverse and pluralistic media.