---
AFEX condemns imprisonment of 17 Angolan human rights activists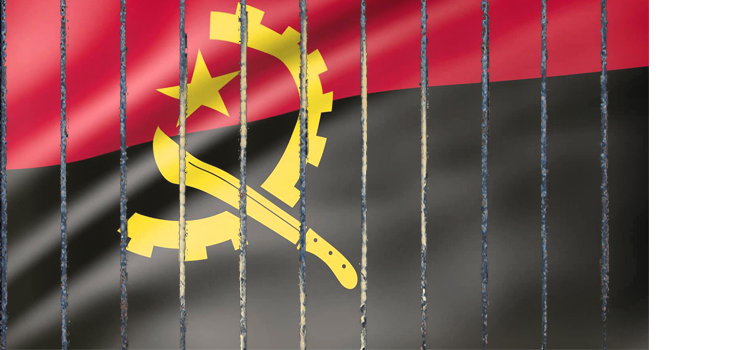 The African Freedom of Expression Exchange (AFEX) is alarmed at the farcical conviction of 17 Angolan activists on charges of attempted "acts of rebellion" and "criminal conspiracy" against the state.
The 17 activists, all members of the "Luanda Book Club" were first arrested in June 2015 by the Angolan police at a book club gathering. The meeting was convened to read and critique the unpublished manuscript of the book Tools to Destroy a Dictatorship and Avoiding a New Dictatorship – Political Philosophy for the Liberation of Angola,written by journalist Damingos da Cruz. Two of them Laurinda Gouveia and Rosa Conde were released shortly afterwards.
The remaining 15 activists were arbitrarily detained without trial for over five months. During their detention, a number of them went on hunger strike and one of them reportedly attempted suicide. Following an outcry by local and international human rights groups, they were released and placed under house arrest in mid-December.
The activists involved are Henrique Luaty da Silva Beirão, Domingos da Cruz, Manuel Chivonde (Nito Alves), Nuno Álvaro Dala, Afonso Mahenda Matias (Mbanza Hanza), and Nelson Dibango Mendes dos Santos. The others are Hitler Jessy Chivonde (Itler Samussuko), Albano Evaristo Bingocabingo, Sedrick Domingos de Carvalho, Fernando António Tomás (Nicolas o Radical), and Arante Kivuvu Italiano Lopes. The rest are Benedito Jeremias, José Gomes Hata (Cheick Hata), Inocêncio António de Brito, and Osvaldo Caholo.
The trial of the 17 activists including the two who were initially released began in November 2015. After several postponements, they were finally sentenced to prison terms ranging from two years three months to eight and a half years on March 28, 2016 by a Provincial Court in Luanda. Damingos da Cruz was sentenced to eight and a half years in prison for preparatory acts of rebellion. Henrique Luaty da Silva Beirão was sentenced to five years and six months for the above mentioned crime and alleged "falsifying of documents". Rosa Conde and Benedito Jeremias were sentenced to two years three months. The remaining activists were sentenced to four years and six months.
AFEX finds the action of the Angolan government unacceptable and an attempt to clamp down on freedom of assembly and association, and freedom of expression in the country. We therefore join the international human rights community to condemn this blatant abuse of the rights of the activists. AFEX calls on the Angolan government to release the 17 activists immediately and unconditionally, and ensure that they are not subjected to further harassment, intimidation or threats.
Angola is a signatory to the International Covenant on Civil and Political Rights and other international protocols which provide for the enjoyment and protection of free speech. The right to freedom of expression is also guaranteed by the Angolan constitution and must therefore be respected. We therefore call on the Angolan government to give meaning to the international protocols and the Constitution of the Republic by respecting the right to free expression, including the views and opinions of dissidents in the country.
AFEX is a continental network of the most prominent African freedom of expression organisations who are also members of IFEX, the global free expression network. AFEX works to increase the effectiveness of its members in addressing freedom of expression challenges in Africa. See www.africafex.org
/Ends
About MISA
The Media Institute of Southern Africa (MISA) was founded in 1996. Its work focuses on promoting, and advocating for, the unhindered enjoyment of freedom of expression, access to information and a free, independent, diverse and pluralistic media.
Related news
26 Feb 2021