---
African Platform highlights link between access to information and human rights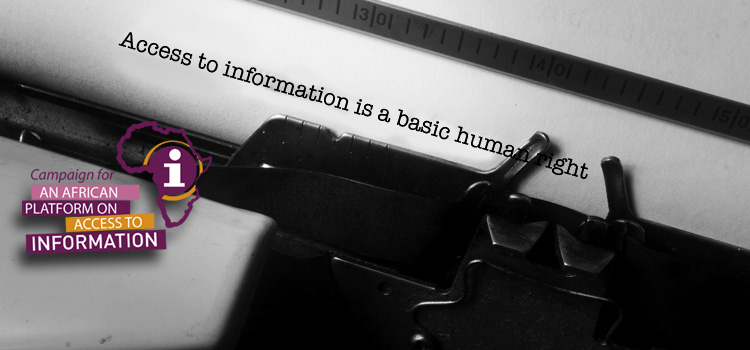 On 10 December 2016, International Human Rights Day, the African Platform on Access to Information (APAI) Working Group recommits itself to advocating for access to information in all spheres of life as part of its continued efforts to promote and uphold human rights for all people.
During the last 16 days of activism, the international community advocated for the abolition of all forms of violence against human beings. Over the past two weeks, we have celebrated important international days throughout the world, among them World Aids Day and Anti-Corruption Day, on which organisations and individuals advocated against all forms of discrimination on grounds of health status, race, gender, age, geo-origin, religion, ability, and for the full enjoyment of rights for all. APAI specifically has highlighted the link between the fundamental right of access to information and other human rights.
As advocates, activists and government representatives, knowledge and information form the basis of our work. They are the resource with which we identify problems and their solutions, target areas and stakeholders, and create strategies. For us as individuals, access to information is the tool by which we are able to fully realise our rights. Rights should be equally enjoyed by all members of our families, communities and beyond.
Information is an asset that can be utilised to better lives, improve societies, and fight discrimination, corruption, as well as unlawful refusal of access to services and aid.
"Based on growing awareness, powerful movements can be built that address inequalities and inequities and that additionally inform people about best practices, rights and responsibilities, availability of services and positive achievements," says Gabriella Razzano, chairperson of the APAI Working Group.
"The right to information will support social movements that benefit all, from grassroots to government level, from children to the elderly," she concludes.
On this International Human Rights Day, we urge everyone to be mindful that the right to access to information is a human right and an enabling right. Respect for and enforcement of all fundamental freedoms and rights is a prerequisite for sustainable development.
Gabriella Razzano
Chairperson
APAI Working Group
Ends/
---
ABOUT APAI … The Working Group (WG) of the campaign for an African Platform on Access to Information (APAI) is a network of civil society organisations that are working on the promotion of access to information in Africa. Members include:
Africa Freedom of Information Centre (AFIC)
Article 19 (East and West Africa)
Federation of African Journalists (FAJ)
Highway Africa
Media Foundation for West Africa (MFWA)
Media Institute of Southern Africa (MISA)
Media Rights Agenda (MRA)
Open Democracy Advice Centre (ODAC)
The African Editors' Forum (TAEF)
---
Enquiries:
APAI Secretariat
Email: apai@misa.org
www.africanplatform.org
About MISA
The Media Institute of Southern Africa (MISA) was founded in 1996. Its work focuses on promoting, and advocating for, the unhindered enjoyment of freedom of expression, access to information and a free, independent, diverse and pluralistic media.