---
Government's openness in Southern Africa: Transparency Assessment Report 2018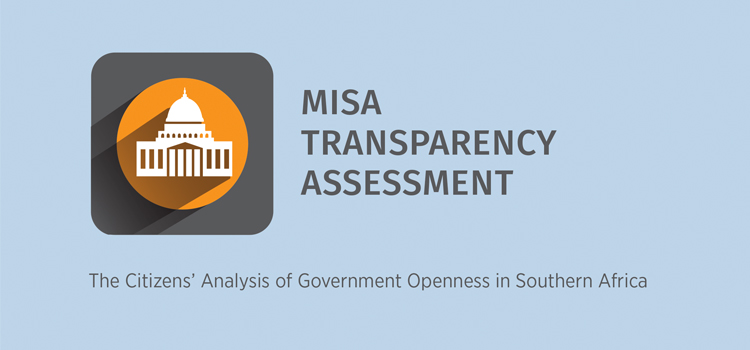 In commemoration of the International Day of Universal Access to Information (IDUAI) on 28 September, the Media Institute of Southern Africa (MISA) launches its annual Transparency Assessment in seven southern African countries.
This year marks the 10th publication of the annual report on the most open and most secretive public institutions in southern Africa. Seven national MISA Chapters, together with local researchers, sought to determine the ease or difficulty with which citizens can access information held by public institutions in their respective countries. This year's Transparency Assessment reflects on the experience of researchers from Malawi, Mozambique, Namibia, Eswatini (formerly Swaziland), Tanzania, Zambia and Zimbabwe in their quest to exercise their right to information. The study establishes whether institutions make information proactively available via an online presence and provide useful information upon request.
Over the years, the region has seen improvements with regard to governments' openness and transparency, yet progress still needs to be made to guarantee the right to information for all the peoples of Southern Africa. Since the inception of the study in 2009, the number of countries in the region with access to information laws has doubled; six countries now have such a law. While Mozambique, Tanzania and Malawi are grappling with the effective implementation of their laws, MISA Zimbabwe demands the repeal of the Access to Information and Protection of Privacy Act of 2002, which curtails rather than promotes freedom of information.
When it came to the citizens' right to access public information in practice, MISA's first Transparency Assessment, carried out in 2009, concluded that there are "non-transparent and overly secretive public institutions in southern Africa, making it nearly impossible for citizens to exercise their right to information." In the 2010 study, only three out of eight countries were able to identify an institution as 'most open,' with less than 25% of the surveyed institutions responding to written requests for information.
Years later in 2018, over a third of the institutions analysed responded to the requests for information within 21 days. This did not always result in the receipt of all or even most of the information requested, but it shows a positive trend. While some institutions failed to supply the requested information, they provided helpful guidance on where and how to locate information. Generally, there appears to be less hostility towards information-seekers, with efforts being made to at least explain why information cannot be provided or why it may be provided with delay.
This year, all participating countries could identify an institution that qualified as 'most open' among those surveyed, receiving a Golden Key Award in acknowledgement of the institutions' efforts to disclose information to the public. However, some of these institutions received under 50% of the maximum possible points, highlighting that public bodies need to take deliberate actions in advancing freedom of information.
Regarding the use of information and communication technologies (ICTs), this year's study concludes that "steady improvements of institutions' online presence could be observed over several years;" showing increased efforts in proactively making relevant information available.
The development towards greater openness and transparency over the past few years is encouraging. We acknowledge that there still remains work to do in order to reach the stage where the free flow of information becomes the norm, for citizens and public bodies alike.
See the full report here.
Enquiries:
Media Institute of Southern Africa (MISA)
Regional Secretariat
Email: info@misa.org
www.misa.org
www.africanplatform.org
www.whk25.misa.org
Information for editors: MISA is a non-governmental organisation with members in 11 of the Southern Africa Development Community (SADC) countries. Officially launched in September 1992, MISA focuses primarily on the need to promote free, independent and pluralistic media, as envisaged in the 1991 Windhoek Declaration. MISA seeks ways in which to promote the free flow of information and co-operation between media workers, as a principal means of nurturing democracy and human rights in Africa.
About MISA
The Media Institute of Southern Africa (MISA) was founded in 1996. Its work focuses on promoting, and advocating for, the unhindered enjoyment of freedom of expression, access to information and a free, independent, diverse and pluralistic media.