---
MISA seeks support for more transparency in elections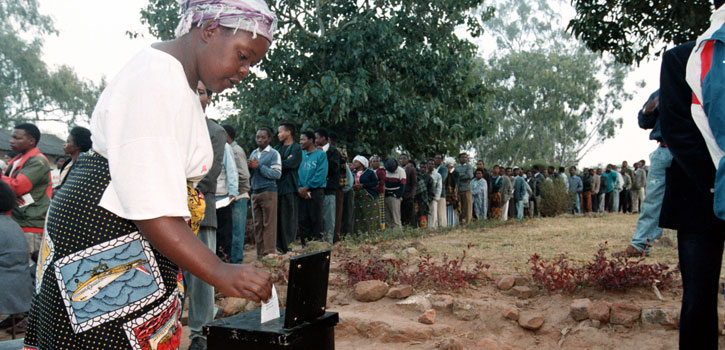 "Access to information and transparency … that's the link between media freedom, democracy and elections", MISA Regional Director Zoe Titus proposed to a meeting of civil society representatives from southern Africa.
Titus was addressing delegates to the 11th Southern Africa Civil Society Forum (CSF) convened by the Regional Apex Alliance, i.e. Fellowship of Christian Councils in Southern Africa (FOCCISA), Southern Africa Trade Unions Coordinating Council (SATUCC) and SADC Council of Non-Governmental Organisations (SADC-CNGO) in Gaborone, Botswana, from August 11 to 14, 2015.
Titus suggested that concerns about the credibility of, and conduct of, the electoral processes in a number of countries in southern Africa is a result of the opaqueness and secrecy that, at times is part of the conduct of elections.
She concluded that there is need to mainstream the principles of access to information within the broader socio-economic development and democratisation agenda in our region.
"MISA would wish to see the incorporation of access to information principles within the conduct and management of elections, for example, and certainly within the broader development agenda of all SADC countries", she said.
Titus pointed out that access to information as a crosscutting issue finds its true meaning when linked to national and regional priorities and concerns. In this instance, she highlighted elections and socio-economic development in southern Africa as being amongst the most critical areas of application for access to information.
Titus concluded by appealing delegates to support campaigns seeking Election Management Bodies to commit to a basic minimum on transparency regarding the conduct of elections. She further called for the established of strengthened civil society-media-EMB networks promoting access to information.
The 11th CSF follows in the tradition and practice of the previous forums which have defined themselves as creative, reflective and action-orientated spaces for the broad spectrum of civil society formations in the region, including faith-based organisations, trade unions, campaigns, special interest groups, progressive academics and local peoples formations and peoples movements in Southern Africa.
About MISA
The Media Institute of Southern Africa (MISA) was founded in 1996. Its work focuses on promoting, and advocating for, the unhindered enjoyment of freedom of expression, access to information and a free, independent, diverse and pluralistic media.
Related news
06 Apr 2021
06 Apr 2021