---
MISA Zimbabwe annual report highlights pitfalls in freedom of expression and access to information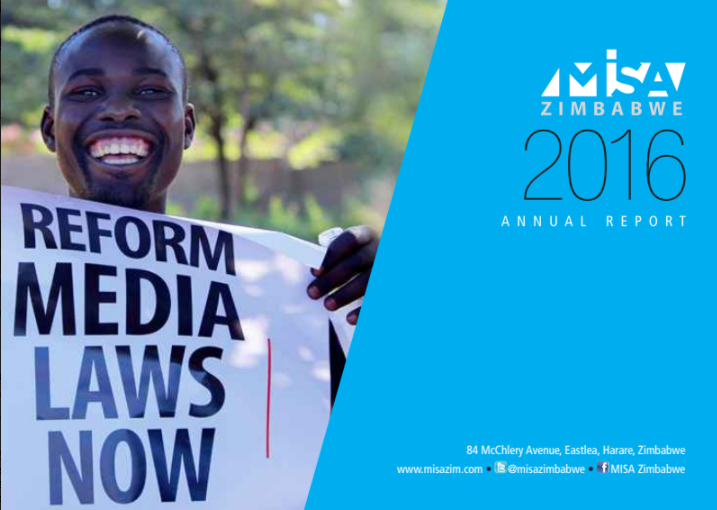 The MISA Zimbabwe 2016 Annual report is a catalogue of MISA-Zimbabwe's footprints on the organisation's strategic interventions towards realisation of its vision of a Zimbabwe in which every person enjoys their rights to freedom of expression, access to information and privacy of communication as well as access to all forms of media that are independent from undue political, economic and commercial interests, coming to fruition.
It has to be stated without ambivalence, that the socio-economic and political environment in which these interventions were made was limiting and strenuous, but all the same, the organisation managed to score top-end results, which we proudly showcase through this narrative.
The regulatory environment continued to be defined by restrictive and inhibitive media policies and laws. Three years after the adoption of the 2013 Constitution, which ushered a universally acceptable Bill of Rights, there has not been any meaningful shift in the country's legislation or policies to make these constitutional gains a reality.
The government- sanctioned Information and Media Panel of Inquiry (IMPI) on 18 March 2015 officially released its report and recommendations on Zimbabwe's information and media sectors urging the government to review and repeal the country's restrictive media laws. The report recommends the repeal of laws such as the Access to Information and Protection of Privacy Act (AIPPA), Criminal Law (Codification and Reform) Act (CODE), Broadcasting Services Act (BSA), Censorship and Entertainment Controls Act (CECA) , Official Secrets Act (OSA) and Copyright and Neighbouring Rights Act, among others.
Suffice to note that in 2016, more than three years after the coming into being of the 2013 Constitution, the country was still to align a raft of laws that infringe on media freedom, freedom of expression and the right to access to information.
In the face of the obtaining complex socio-economic and political environment, MISA Zimbabwe still managed to roll out a cocktail of high impact activities which kept the outstanding law reforms issue on the agenda.
During the year under review the following summary of results was achieved:
• MISA-Zimbabwe successfully challenged the constitutionality of criminal defamation with the Constitutional Court, in its push for media law and policy reforms.
• Maintained regional and continental pressure on the need for media law and policy reforms by facilitating and coordinating the African Commission on Human and Peoples Rights (ACHPR) Chairperson, Commissioner Pansy Tlakula's meetings with journalists, human rights defenders, media organisations, parliamentarians and regulatory bodies during her four-day advocacy visit to Zimbabwe
• Led the formation of an Access to Information (ATI) multi-sectorial movement, bringing together Community Based Organisations (CBOs), and the broader civil society on the need to pressurise public bodies to release information critical for informed decision-making.
• In the period under review, MISA-Zimbabwe did not only focus on urban centers in its campaigns, it took its ATI campaigns to rural areas through the launch of the African Media Barometer (AMB) in rural Seke on the fringes of Harare's dormitory town of Chitungwiza.
• As part of Media Monitoring, having noted the alarming rise in the rate of police harassment of journalists discharging their constitutionally guaranteed duties, MISA-Zimbabwe engaged senior officers of the Zimbabwe Republic Police on the need to to secure the security of journalists. Since the engagement on the 16th of September 2016 to December 31, no journalist were arrested.
• Produced model laws and polices on the governance of the Internet and cyberspace. The bulk of the provisions of the model laws have been reflected in the three bills being proposed by the Ministry of Information Communications Technology, Postal and Courier Services.
• Through the Media Defence Fund, MISA-Zimbabwe maintained a 100% success rate in its legal assistance to journalists and related support services.
It is therefore MISA-Zimbabwe's hope that this 2016 Annual Report which highlights the pitfalls in the country's media, freedom of expression and access to information terrain will assist in influencing decision-makers to move with speed in the implementation of the envisaged reforms critical to Zimbabwe's transition into a true democracy as enunciated in its 2013 Constitution.
I wish to express my gratitude to both the internal and external stakeholders for the gains attained during the year under review. Special mention to our funding partners for supporting our quest towards the fulfillment and realisation of our mission and vision statements.
*(Download full report here) 
Kelvin Jakachira
Acting Chairperson
National Governing Council
MISA Zimbabwe
Ends/
---
MISA is a regional non-governmental organisation with members in 11 of the Southern Africa Development Community (SADC) countries. Officially launched in September 1992, MISA focuses primarily on the need to promote free, independent and pluralistic media, as envisaged in the 1991 Windhoek Declaration.    
---
Enquiries:
MISA Zimbabwe
Tel:  +263 4 776 165/746838
Cell: +263 712 602 448/618 057
Email: misa@misazim.co.zw
Website: www.misazim.com
Twitter: @misazimbabwe.
MISA Regional Secretariat
Email: info@misa.org
www.misa.org
www.whk25.org
Facebook: MISA.Regional.Secretariat
Twitter: @MISARegional
Transfered
About MISA
The Media Institute of Southern Africa (MISA) was founded in 1996. Its work focuses on promoting, and advocating for, the unhindered enjoyment of freedom of expression, access to information and a free, independent, diverse and pluralistic media.
Related news
06 Apr 2021
06 Apr 2021