---
MISA Zimbabwe reflects on 2015 World Press Freedom Day theme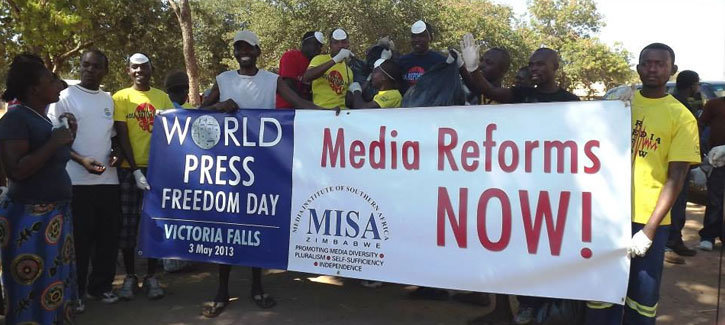 MISA-Zimbabwe joins the rest of the world in commemorating World Press Freedom Day on 3 May 2015 under the universal theme: Let Journalism Thrive! Towards Better Reporting, Gender Equality, & Media Safety in the Digital Age.
We, however, note with great concern that close to two years after the coming into being of the 2013 Constitution, Zimbabwe is still to align several of its restrictive media laws with the country's supreme law.
These offending laws, compounded by an ailing economy that has seen the closure of the Zimbabwe Mail and Southern Eye private newspapers due to serious sustainability problems, continue to pose serious threats to media freedom and citizens' right to freedom of expression and access to information through diverse media.
Free journalistic enterprise, journalism safety and professionalism, cannot thrive in an environment chocking with a raft of repressive media laws such as the Access to Information and Protection of Privacy Act (AIPPA), Broadcasting Services Act, Interception of Communications Act, Official Secrets Act and Criminal Defamation, among others.
But instead of reviewing these laws and ensure the full enjoyment of freedom of expression as enshrined in the constitution, government is contemplating adding new pieces of legislation that will further curtail free speech online under the guise of preventing cyber crimes.
Also lamentable is the fact that the country is still to license community radio stations as provided for in terms of the Broadcasting Services Act of 2001.
Hence our theme for 2015, Reform Media Laws Now: For Sustainable, Diverse and Free Media, is an impassioned plea for government to urgently repeal or amend all media laws that infringe on the right to media freedom, freedom of expression and access to information.
While the Constitution now explicitly provides for citizens' right to access to information, the government should list the exact laws that are being reviewed in that regard by the inter-ministerial committee tasked with the realignment of laws.
MISA-Zimbabwe also demands for periodic progress updates in the spirit of transparency and accountability to foster and entrench citizens' right to access information on issues that affect their daily lives and wellbeing.
This will allow for stakeholder participation and input into the laws review process in line with principles of good governance.
In reviewing the country's media laws, due consideration should be given to the findings and recommendations outlined in the report submitted by the government-sanctioned Information and Media Panel of Inquiry (IMPI).
Thus guided by this year's universal theme, MISA-Zimbabwe urges the government to:
Swiftly align the country's media laws, policy and regulatory frameworks with the new constitutional dispensation and the regional and international instruments that it is a state party or signatory to.
Deal with perpetrators of media violations and ensure the greatest safety and security of journalists conducting their lawful professional duties.
Review the broadcasting policy framework to secure ZBC's  governance, managerial and editorial independence for it to fulfil its public service mandate as provided for under the new constitution.
Reconstitute the Zimbabwe Mass Media Trust to cushion the government-controlled Zimpapers from political interference.
Facilitate the accessibility of information to the public and broadcasting stakeholders by all relevant authorities through regular updates on Zimbabwe's digital migration plans and developments.
Urgently formulate a clear policy and regulatory framework for community broadcasting which will include a representative and all-encompassing definition of a community for purposes of facilitating the application process and licensing of community broadcasters.
Be mindful of the importance of social media and its added advantage in enhancing access to information and accountability by ensuring online platforms remain free and accessible to Zimbabweans.
Enquiries:
Kumbirai Mafunda, Chairperson
MISA-Zimbabwe, 84 McChlery Drive, Eastlea, Harare
Zimbabwe
Telefax: +263 4 776165/746838
Cell: + 263 712 602 448/618 057
Email: misa@misazim.co.zw
Website: www.misazim.com
About MISA
The Media Institute of Southern Africa (MISA) was founded in 1996. Its work focuses on promoting, and advocating for, the unhindered enjoyment of freedom of expression, access to information and a free, independent, diverse and pluralistic media.
Related news
03 May 2019