The Southern Africa Chief Justices' Forum (SACJF) held a historic symposium in Nairobi, Kenya, where it managed to bring together 12 Chief Justices under one roof for the first time since the forum's formation in 2003.
MISA was one of the five collaborative partners with SACJF, in the symposium which took place on 21 and 22 April. The strategic partners included the International Commission of Jurists (ICJ), International Commission of Jurists Kenya (ICJ-K), Advancing Rights in Southern Africa (ARISA), and the American Bar Association among others.
The symposium was on digitisation and internet governance, key themes that are part of MISA's strategic pillars.
The symposium also coincided with the SACFJ's Management Committee Meeting. 
This engagement was hosted by Justice Martha Koome, the Chief Justice and President of the Supreme Court of Kenya and Justice Peter Shivute, the Chief Justice of the Republic of Namibia and Chairperson of SACJF.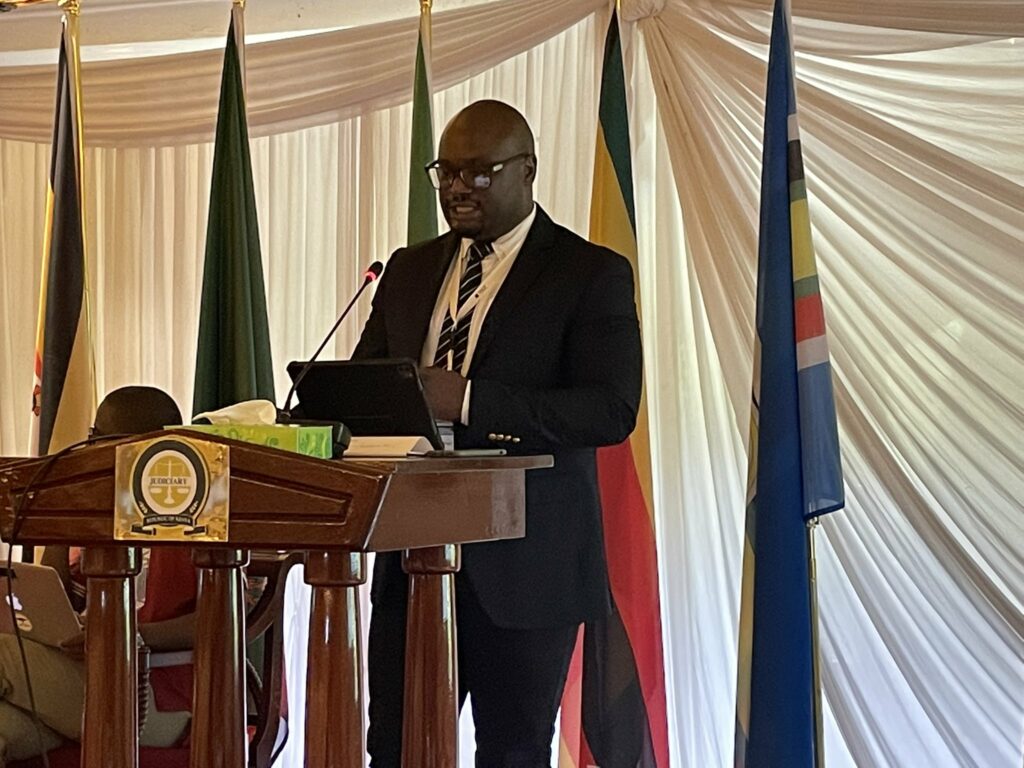 MISA Regional Director Tabani Moyo giving a presentation on regional and international standards on the protection of internet freedoms.
MISA Regional Director Tabani Moyo set the tone for the symposium with a presentation on regional and international standards on the protection of internet freedoms.
In his presentation, Moyo highlighted the importance of the judiciary in affirming regional and international instruments that protect internet freedoms and digital rights.
MISA Zimbabwe Legal and ICT policy officer, Nompilo Simanje, discussed the criminalisation of publishing falsehoods, highlighting that existing laws in most countries promote self-censorship. 
She emphasised the need to adhere to data protection and protection of privacy principles.  
The meeting was attended by chief justices from Botswana, the Kingdom of Eswatini, Malawi, Mozambique, Seychelles, Tanzania, Uganda, Zambia, Zanzibar and Zimbabwe.
The Chief Justices led a high-level panel segment that focused on the digital transformation of judiciaries in Africa and experiences in the face of the COVID-19 pandemic. 
Some of the key recommendations at the symposium focused on: 
The need to promote access to stable and reliable internet for both litigants and the judiciary.

Promoting digital literacy for the judiciary, legal practitioners and self-actors so as to fully promote access to justice.

Ensuring internet governance mechanisms are inclusive, democratic and promote public participation.

Developing and implementing data protection and data privacy laws that will be adhered to in the collection, processing, transmission, use and storage of data by the judiciary system.

Reviewing court rules and procedures to enable digitisation and also admissibility of electronic evidence.

Developing information security policies and a culture of cybersecurity within the judiciary system.

Governments to provide adequate budgeting for purposes of the digitisation process.

Internet shutdowns are a violation of political and civil rights as well as socio-economic rights 

Balancing the criminalisation of cyber-related conduct while protecting fundamental rights

Ensuring that cybersecurity and cybercrime laws do not provide opportunity for unlawful, unjustified and mass surveillance.